Meet Our Dentists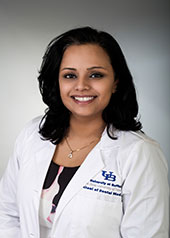 Dr. Jaswinder Grewal, D.D.S
Dr. Grewal is a 2014 Cum Laude honor graduate in Doctor of Dental Surgery (D.D.S.) from the State University of New York at Buffalo, School of Dental Medicine.
After graduation, Dr. Grewal moved to the Ottawa area and has been practicing Dentistry for 4 years. She recently moved to Manotick with her husband who is a lawyer and their 2-year-old son. In her free time, she likes to work on her oil paintings and spend time with her family. Dr. Grewal opened her own dental practice in March 2018 and is now warmly welcoming new patients. She is very excited to be part of the small and welcoming community of Manotick.
Certifications:
Doctor of Dental Surgery (D.D.S) from State University of New York, Buffalo - 2014
Oral Moderate Sedation from Academy of General Dentistry, Toronto - 2015
Certified Invisalign provider - 2017
Basic Implant Mini Residency from Toronto Institute of Dental Excellence (TIDE)- 2017/2018

Comprehensive Treatment Planning (TIDE) - 2017
Implant Surgical Principles: Hands-on models, pig mandible and clinical videos (TIDE) - 2017
Cadaver Surgical Exercises for Implantology (TIDE) - 2017
Live Patient: Surgical implant placements and auxiliary staff training (TIDE) - 2017
Implant Prosthodontics and Occlusion for Implantology (TIDE) - 2018
Live Patient: Implant Prosthodontics (TIDE) - 2018
Dr. Grewal has volunteered for Dentistry from the Heart which is a worldwide non-profit organization dedicated to providing free dental care to those in need. She has donated her time and resources at our Brockville dental office to give back to those who cannot afford routine dental treatment.
Dr. Grewal has also volunteered with Remote Area Medical (RAM). RAM is a major non-profit provider of mobile medical clinics. The organization provides free quality healthcare in the form of dental, vision and medical treatment. Dr. Grewal travelled to Tennessee in 2013 and donated her time and resources to help those in need. To date, RAM has donated a total of $120 million worth of free health care services!
---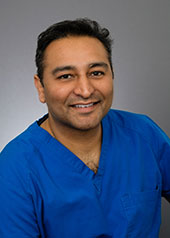 Dr. Raja Sandhu, D.M.D
Dr Raja Sandhu is a graduate from Boston University School of Dental Medicine class of 2004. Dr Sandhu has been practising dentistry for the last 14 years in the ottawa area with his list of credentials ever growing. To date he has successfully placed and restored over 2500 implants and has extensive experience with oral modeate sedation.
Credentials:
Tuffts University- Doctor of Dental Medicine - 2004
landera ranch Implant institute -Implant Mentoring - 2009
American Dental Implant Association fellowship and mastership - 2011
DOCS Education- Oral Sedation Dentistry - 2008
CMI Institute- mini Dental Implants and Dentures - 2010
Hands on Implant Placement and bone management - 2013
Teeth in day training under renowned surgeon Dr Mark Lin - 2016
Advanced Principles for Implantology: Module 1 (Indirect and Direct Sinus Grafting) - 2018
Dr Sandhu currently resides in Manotick with his wife who is a dental hygenist and part of our team , his three children and his little pet guinea pig. If you are looking for him in his spare time, he may be found on hole #9 of the golf course or out on the river with his family.
---
Dr. Gurfateh Sandhu, B.D.S, D.M.D
Mini implant residency from Toronto Institute of Dental Excellence
Advance surgical training from Studia in Brazil
Certified in Moderate Oral Sedation with DOCS Education
Certified 6 Month Smile provider
Member of Congress of Oral Implantology
Member of Ontario Dental Association
Dr. Gurfateh Sandhu graduated in 2003 with a Bachelors of Dental Surgery degree in Pune, India. While earning this degree, he was actively involved in sports and dance for which he received various awards. Following his degree he moved to Boston where he attended Tufts University and received his Doctorate of Dental Medicine in the spring of 2008. While at Tufts he also served as class president.
Pursing his dream of living in Canada he moved in 2008 to join his brother in purchasing his first dental practice, Dentistry@Brockville. Since making Brockville is home, Dr. Sandhu has furthered his dental education and has obtained his certificate in oral moderate sedation for the comfort of his patients, completed his mini residency in dental implants, and completed advance surgical training in Brazil.
Co-founder of Sandhu Dental Group, Dr. Sandhu not only expanded his dental training, he has also expanded his dental practice and is now owner to multiple dental locations across Eastern Ontario and this has created employment for many dentists and over 70 employees.
While he does travel most days to different locations to practice dentistry he has made Brockville his home base with his wife and three beautiful children. Two boys and a girl. When not in the dental office you will find Dr. Sandhu hiking and exploring the country side and also enjoying the river with his children.
Professional Milestones:
Hundreds of oral sedation and dental implants completed
Co founder of Sandhu Dental Group
---