COVID-19 Update: We are now open for ALL dental appointments including Family dentistry, Implant dentistry, Emergency dentist care. Click here to watch a short video on how we are keeping you safe.
$
99
new patient exam
BOOK ONLINE
Testimonials
"Since getting my dental implants I feel so confident, happy and free. I had two implants placed on my upper right side. The missing teeth were side-by-side, so it made the space seem very large. When I smiled or laughed, you could definitely see the large space there, which I have been self-conscious of for years. I found myself often smiling without showing my teeth or laughing and having my hands cover my mouth. Since I have had these teeth missing for 25 years, I originally had a partial denture in this area to replace the missing teeth. The partial denture worked for awhile but it became loose as my other teeth started shifting. Eventually the metal clasp on the denture broke and I just stopped wearing it. I finally decided to make the decision and start the process of getting dental implants, I wanted a permanent solution. I was surprised that the treatment took only 6 months for permanent replacement. Dr. Grewal was great with working with my timeline and convenience. I had the option of paying in installments which really benefited me. Come the day of the actual implant placement, I remember becoming very nervous because I hate getting needles for the freezing. Dr. Grewal made sure I was very frozen and I did not feel anything during the procedure. To this day, I still am not in pain or have felt pain in the area, although I am very careful with keeping the implants clean. In my opinion, dental implants are expensive, but the money is very well spent considering this is a permanent solution to missing teeth. Replacing missing teeth with dental implants is the best thing you can do for yourself. My best advice would be to find a way to work with your dentist to make the payments, as it is truly an investment in your health and has changed the quality of my life." - Mahalia McLaren.
---
Dr. R. Sandhu I want to tell you how much I enjoy my new dental implants. best thing I ever did! When you first spoke to me about it, I thought it was a joke and my mind immediately went to NO WAY! I was convinced it was to expensive and I was not going through such a scary process! I ended up watching the process on the tv in the waiting room. Very good advertisement because it convinced me to go with the implants - seemed like the best investment.
I remember watching you work with a mirror and I was very very impressed with how much care you gave me and the expertise you demonstrated. I don't remember feeling any pain at all.
You and you team are so professional, kind , patient and caring throughout the whole procedure, its great!
Now I have wonderful teeth (implants) that properly balance out my mouth and it makes me feel great.
You were right, it is the best investment I could have made.
This will last the rest of my life.
My mouth is finally feeling great again.
Thank you so very much, Dr. Sandhu and Team, YOU ARE THE BEST!!!
---
"My new teeth have made it possible to return to eating foods I use to enjoy and also enjoying other foods prepared the way I like as opposed to them being ruined by having to prepare them soft and mushy. Even more importantly being able to chew properly makes digestion of all the foods easier and I have reduced gas and stomach pain."
---
"I just want to mention as well, the dentist who did the work to my mouth did an absolutely amazing job!! I don't know her name (Dr. Grewal), but, she was awesome and my mouth looks and feels fantastic!! If you could just let her know that I am super impressed and will no longer be quite so apprehensive to visit. I am so thrilled with the service I received, I'm literally suggesting strongly to my 250 cupe members that they give your office a try. Very impressed for sure!"
---
"I expect that many people would hesitate going down the road of implants. However after experiencing decades of loose dentures, I have finally come to enjoy firmly fitting dentures with the implant procedure. I fully recommend the process. I now have well fitting dentures with both top and bottom implants. Thank you to the team!"
---
"Dr. Raja Sandhu and entire practice are a cohesive team that prioritizes your health, confidence, and comfort above all. During the past year, I have used Dr. Raja's expertise in order to decide which services were best for me - I decided to move forward with dental implants. The advancement of dental technology is impressive; dental implants are no longer complicated and expensive - but rather a great solution to bettering both your dental health and confidence in your smile. The procedure is fast and effective, with minimal recovery time. It works so well that you are now chewing food properly, your smile is improved, and you have the confidence to face the public again."
---
"Thank you Dr Raja for fixing my smile, I can now eat, talk and smile without worry pain or being embarrassed."
---
"I had complete upper and lower jaw implants on 4 and 5 pin supports. The whole process was for the most part fair and discomfort-free. I am now able to eat and chew as if I had my original teeth. The price was very competitive, and the appearance is natural. Based on my experience, I have no hesitation in recommending this dental practice".
A fixed hybrid denture case Dr. Sandhu completed in August 2019.
---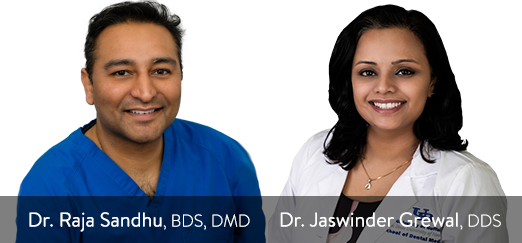 Complimentary
Dental Implant Consultation,
includes necessary x-rays
(613) 491-3300
Dental Implants Complete Your Smile, call us for our Implant Dentistry services.
If you're missing one or more teeth and would like to fill the gap with the most natural-looking, comfortable solution possible, you'll be interested in hearing about Implant dentistry.
Our team aims to provide pain-free Family Dentistry, Implant Dentistry and Emergency Dental Care in a relaxing environment.
Copyright © 2021 • All Rights Reserved • dentistryatmanotick.ca
Custom dental website by
MarketDental